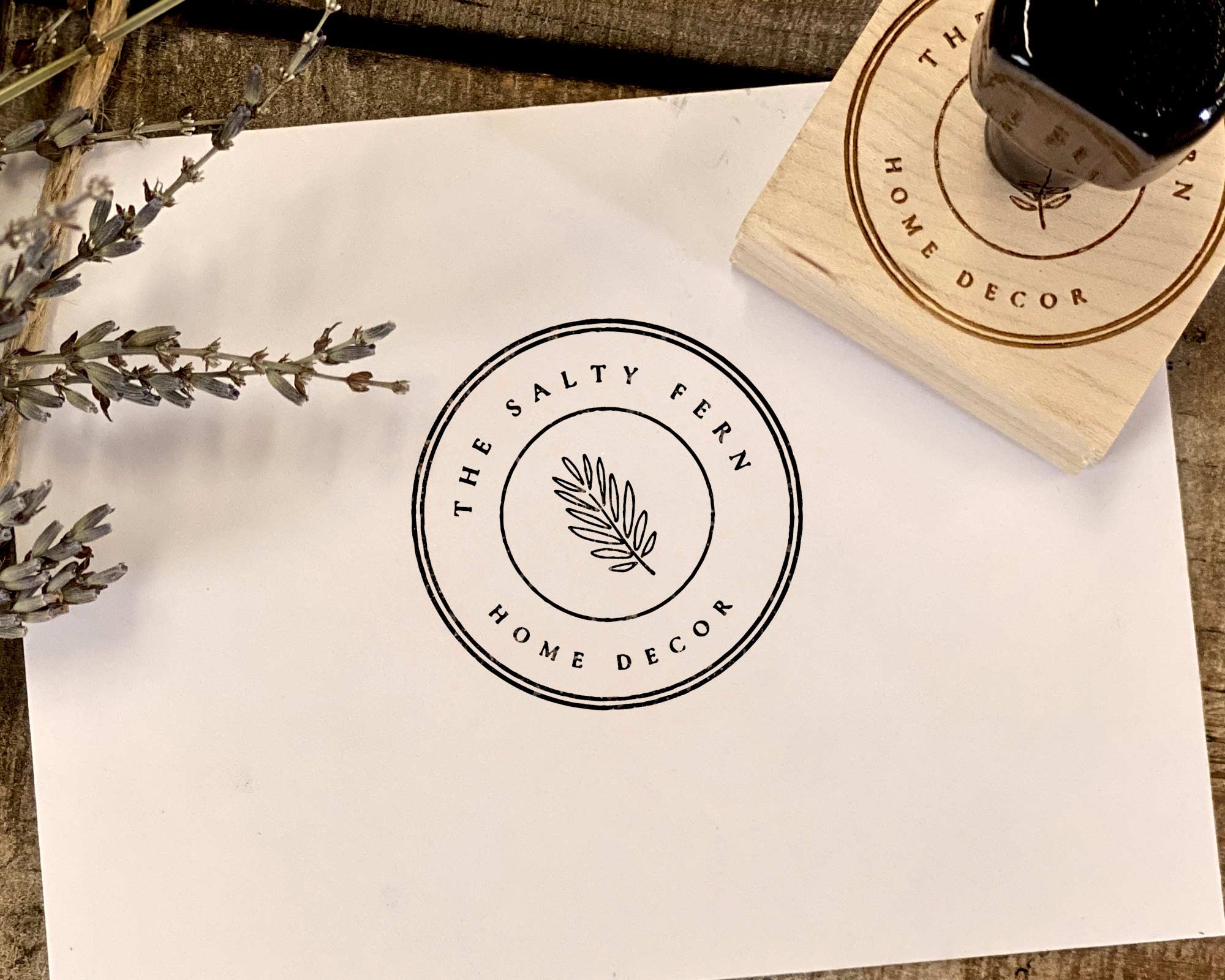 You've spent untold hours bringing your brand and logo to life. Let us create the perfect custom logo stamp: a great way to add a unique touch and personalization to your business. These are an excellent way to add your business logo to outgoing packages, business cards, letters, fabrics and more.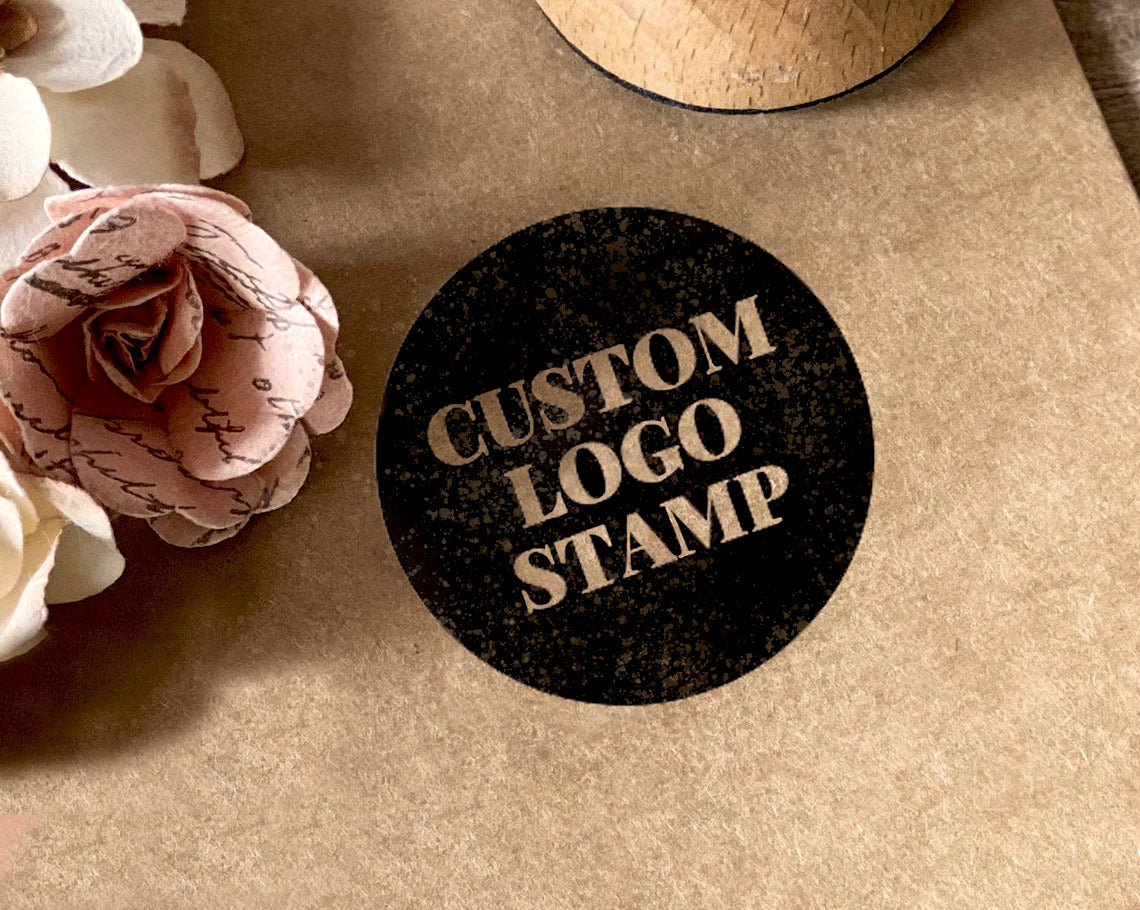 Personalize Your Impression
Our custom logo stamps are made from premium materials and cutting-edge engravers to ensure a sharp, vivid image every time. Each personalized branded stamp is designed to your specifications, allowing you to create something truly one-of-a-kind. We offer several fonts and colors to create the perfect logo stamp and will always send a proof for your approval before production.
Rectangular Logo Stamps: Precision for Your Brand
Designed to deliver clear, sharp impressions, our rectangular logo stamps ensure your brand's image is depicted with precision and quality. Choose from traditional wood hand stamps for a classic feel, or opt for our convenient self-inking designs for quick, consistent impressions.
Wood Hand Stamps: Size 2.5" x 1" - Ideal for making your mark with elegance.
Self-Inking Stamps: Size 2.3" x 0.8" - Perfect for efficient, repetitive stamping.
XL Self-Inking Stamps: Size 3" x 1.5" - Suitable for larger, more prominent impressions.
XL Wood Handle Stamps: Size 3" x 2" - Great for a variety of stamping requirements.
Round Logo Stamps: Circular Elegance for Your Brand
Discover the charm of circular branding with our round logo stamps. Ideal for businesses seeking a unique touch, these stamps come in wood hand stamp and self-inking options, each delivering a perfect round impression for your brand's identity.
Wood Hand Stamps: 1.97" diameter – Embrace the elegance of traditional stamping.
Self-Inking Stamps: 1.68" diameter – Perfect for quick, repeatable use.
Extra-Large Self-Inking Stamps: 2" diameter – Make a larger, impactful brand statement.
Enhance Your Business with Personalized Logo Stamps
Custom logo stamps provide a quick and effective way to add your business logo, address, or other important information to documents, saving valuable time and maintaining a consistent, professional appearance across all your communications.
Branding: Stamp your logo on packaging, envelopes, and business cards to increase brand visibility.
Document Handling: Quickly mark invoices, receipts, and contracts with 'Paid', 'Approved', or custom messages.
Marketing: Use stamps for promotional materials or event handouts to leave a lasting impression.
Personalization: Add a personal touch to customer correspondence, making your business stand out.
Frequently Asked Questions
To create your custom logo stamp, follow these simple steps:
Choose your preferred stamp type (self-inking or rubber stamp with a wooden handle).
Select your desired ink color.
Upload your logo file.
Add any specific notes or instructions about your design or additional details in the provided space.
If you don't have a logo, don't worry! Our team of talented designers is here to assist you. We offer professional logo design services, including one logo design and one revision. You can expect to receive your logo within 1 to 2 business days.
The cost of a custom logo stamp varies based on several factors, including the stamp type, impression size, and ink color you choose.

Our wood stamps range from $21.99 without ink to $27.99 - $28.99 bundled with an ink pad, depending on ink color.

Self-inking stamps range from $26.99 to $30.99 depending on shape, size and ink color.
The choice between self-inking and a rubber stamp with a wooden handle depends on your specific requirements and preferences:
Self-Inking Stamp: Ideal for quick and repetitive stamping. It includes an ink pad, and the stamp automatically re-inks itself after each use.
Rubber Stamp with Wooden Handle: Offers a traditional and classic feel. You'll need a separate ink pad, and it's a great choice for special or occasional use.