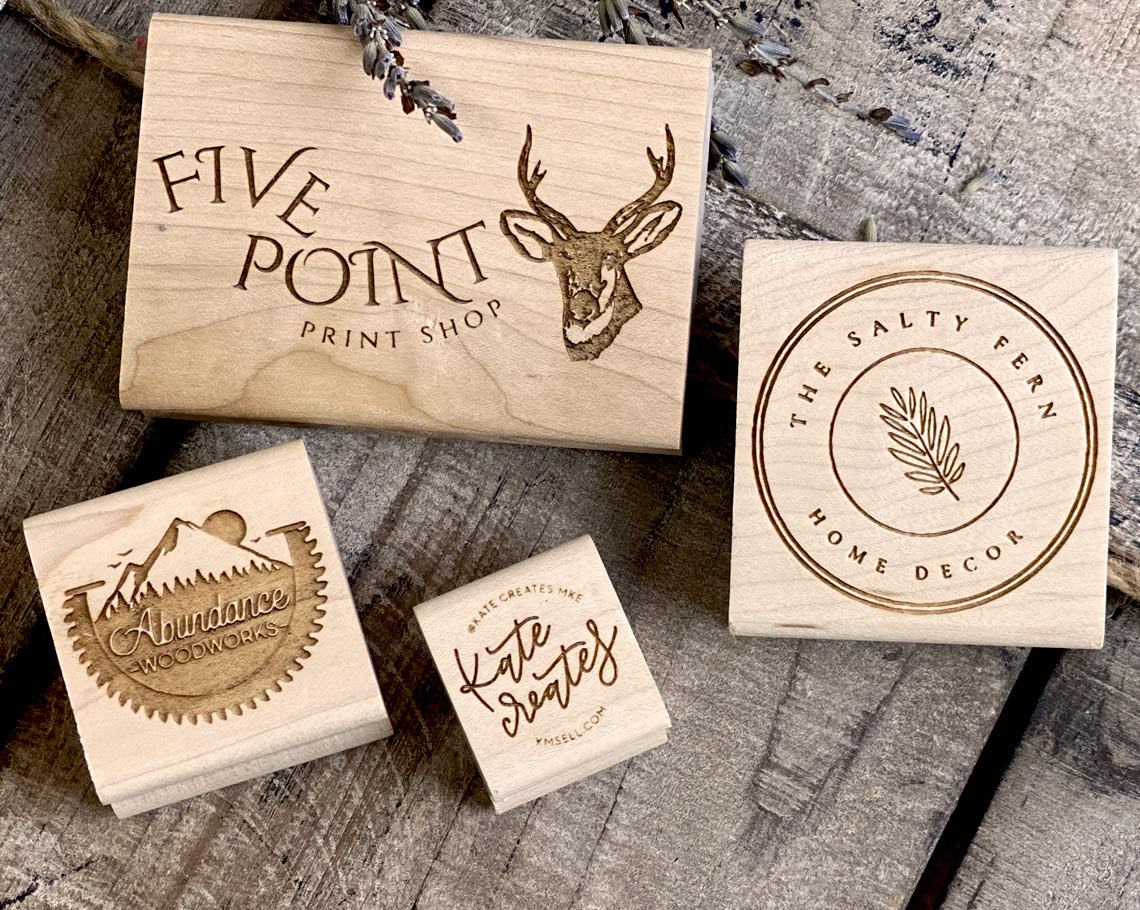 Custom Engraved Wood Stamps
Experience a new level of personalization with our custom wooden rubber stamps. Your distinct design is precision laser-engraved onto each stamp, ensuring a unique touch.
Unlock Branding Potential with Engraved Wood Rubber Stamps
Unlock the full potential of your branding and personal expression with our engraved wood rubber stamps. Each piece is a blank canvas ready to be transformed by your vision. Experience the freedom to create detailed logos, refined text, and designs that capture the core of your brand identity.
What is engraved wood rubber stamp?
Wood engraved rubber stamps are a custom and personalized type of stamp. They are created by laser-engraving a unique logo or design directly into the top of a wooden block.
This engraving process not only makes each stamp unique, it also helps the owner easily identify their stamp among others they may have. The engraved wooden block serves as a handle and base for the rubber stamp, resulting in a customized and functional stamping tool.
Benefits of Using Engraved Wood Mounted Rubber Stamps
First off, they add a touch of personalization and artistry to your workspace, thanks to the engraving. The engraved index on the wooden handle also makes it easy to identify the stamp you need, especially if you have multiple stamps.
Plus, the laser engraving is long-lasting, ensuring you have a durable, high-quality tool. And let's not forget: the wooden mount offers a natural, crafty feel that many people appreciate.
The Right Size for the Right Impact
Available in a variety of sizes and the option to choose with or without a handle for your stamping convenience.
Petite Precision (1" x 1"): Ideal for small, delicate designs or individual icons that add a subtle branding touch to your products.
Versatile Medium (1.5" x 1.5"): A great all-rounder for business logos, this size balances visibility with space efficiency on a variety of materials.
Bold Statement (2" x 2"): Make your mark stand out with this size, perfect for larger packaging or as a prominent feature on handcrafted goods.
Professional Large (3" x 2"): This rectangular size is designed for maximum impact, providing a broad canvas suitable for detailed logos or for making a bold impression with larger typography.
Frequently Asked Questions
The available colors are black, blue, red, green, and purple.
Yes, you can use any standard ink pad with your wood engraved rubber stamp. However, we also offer specialized ink pads, which are formulated to give you the crispest, clearest impressions.
Orders are processed within 2 to 3 business days after we receive your order confirmation and approved art proof. Weekends and holidays are excluded from processing times.