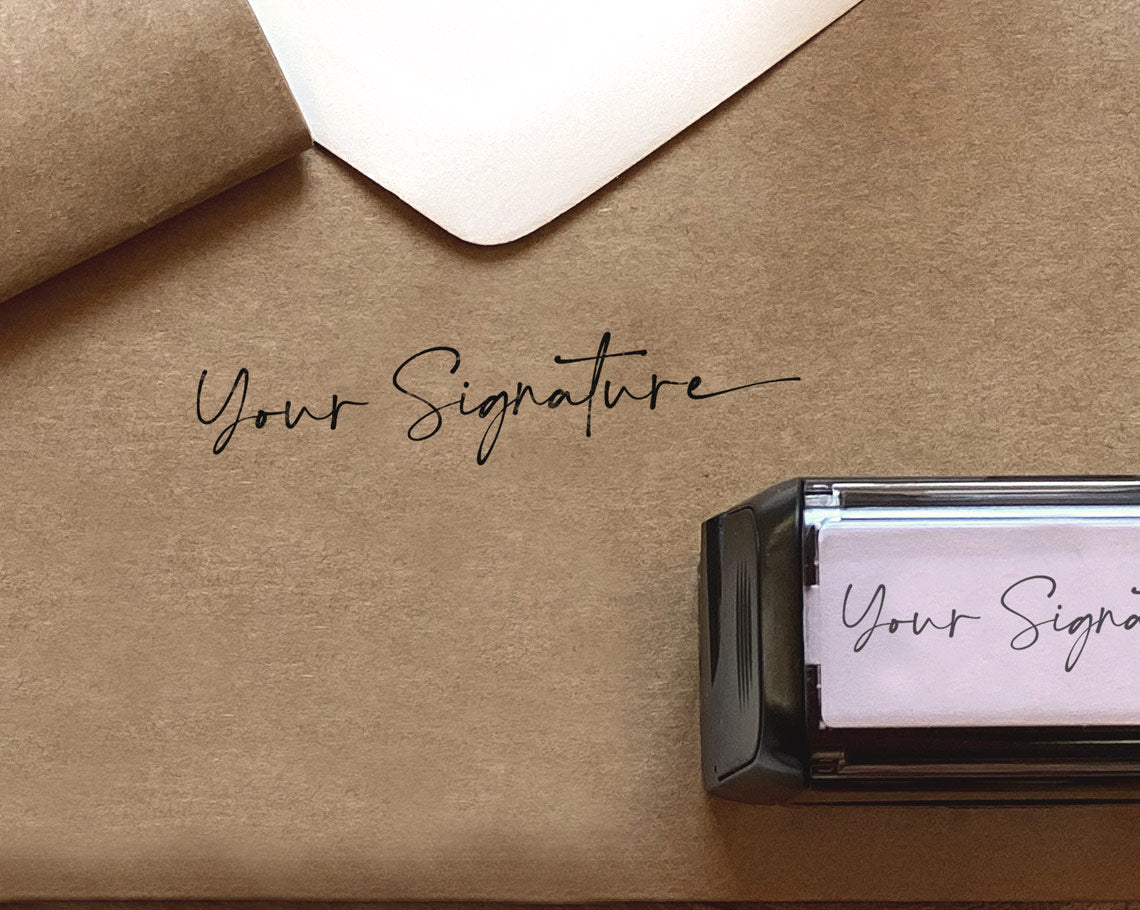 We've all spent time perfecting our signatures. If you want to get it right every time, custom signature stamps are an essential tool for businesses and individuals alike. Our signature stamp features clear, crisp impressions with an efficient and practical design.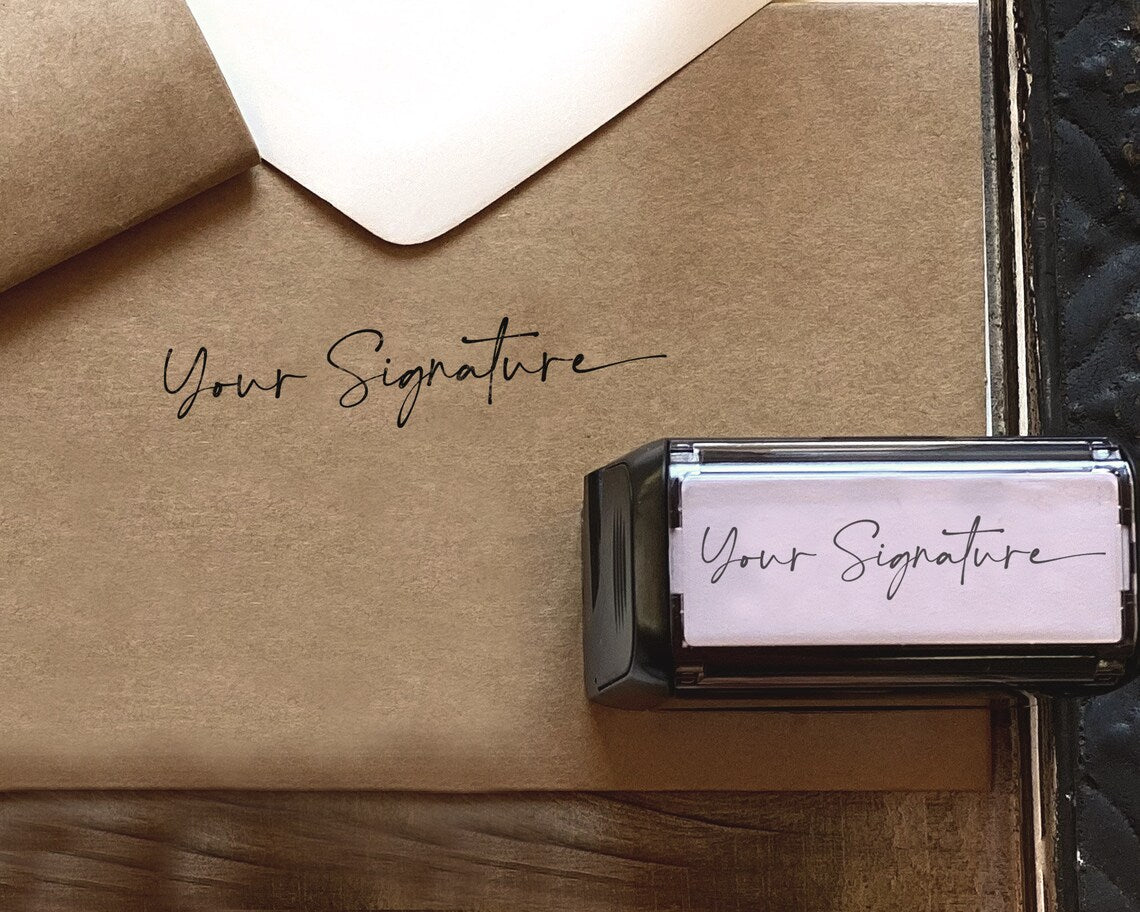 Professionalize Documents with Custom Signature Stamps
Choose a self-inking or wood handle stamp that best suits your needs. Our signature stamps will provide a professional and elegant look to any document, making them great for personalizing letters, invoices, checks, and more. Our custom signature stamps are excellent as signature stamps for checks as well. Get your signature stamp today and streamline your official documents!
Authentic Impressions: Rubber Signature Stamps
Embrace the traditional elegance of signing with our premium rubber signature stamps. Meticulously handcrafted, each stamp is a hallmark of quality, designed to replicate your signature with flawless accuracy.
Consistent Signature Quality: Guarantee a uniform representation of your signature, essential for professionals who sign multiple documents daily.
Efficiency and Convenience: Save valuable time with a quick and effortless stamping motion, perfect for busy environments where efficiency is key.
Seamless Signing: Self-Inking Signature Stamps
Streamline your document handling with our self-inking signature stamps, the epitome of convenience and reliability. Engineered with precision using Trodat models, renowned for their sturdiness, these stamps ensure a seamless signing experience. Each stamp is capable of creating thousands of impressions before needing to be re-inked, offering you an uninterrupted flow of clear and consistent signatures.
Non-Stop Performance: Crafted for high-volume use, these stamps are an asset in any busy setting, from office desks to on-the-go professionals.
Compact Precision: The modest impression area of 2-3/8 x 7/8 inches is meticulously sized for optimal placement on documents, providing a neat and professional look every time.
Your Signature, Your Stamp: Customized to Perfection
Make every document distinctly yours with a signature stamp crafted from your own personal signature. Our easy upload feature allows you to transform your handwritten signature into a precise, high-quality stamp. Ideal for authorizing documents, personalizing stationery, or crafting with a personal touch, your signature stamp will be an exact representation of your unique sign-off.
Effortless Upload Process: With a simple upload of your signature, we take care of the rest, ensuring that the stamp you receive is a perfect match to your original signature.
Custom Design Option: Prefer a stylized signature? Our design team can create a custom signature stamp that suits your professional image or personal style, ideal for those who want a signature that's both polished and practical.
Frequently Asked Questions
We offer 2 types of stamps: wood handle rubber stamps and self-inking stamps. Wood handle rubber stamps offer a traditional feel and are perfect for those who appreciate classic craftsmanship. Self-inking stamps provide quick, consistent imprints and are ideal for frequent use.
Self-inking stamps come in black. For rubber stamps, you can choose from black, blue, red, green, or purple ink pads, allowing you to match the color to the tone of your message or branding.
Choose from our pre-made return address stamp designs or upload your own unique design to truly make your mark.
The United States Postal Service (USPS) recommends placing your return address in the upper left corner of the envelope. Specifically, it should be located within the area 1/2 inch to 2 inches from the left edge and 5/8 inch from the top edge. This placement aligns with the USPS postal standards for envelopes and ensures the return address is clearly visible if needed.